The Humble Baked Beans – Sometimes Home Comforts are the things you miss when you travel to far away lands.
This got me to thinking maybe I should make my own Homemade Baked Beans.
Luckily with food there is not much you can't recreate with the smallest of effort.
They sure were delicious. 😍
HOW TO MAKE BAKED BEANS – Homemade Heinz Baked Beans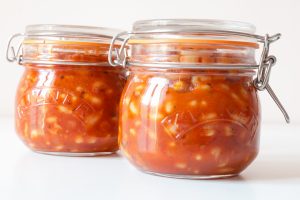 How to make Baked Beans
Soak Time: 12 – 24 Hours
Cook Time: 2 – 3 Hours

Ingredients
500g / 17.5oz of Haricot Beans
Enough water to cover the beans
2 tablespoons of Oil
1 Diced Onion
1 teaspoon of Salt
1 teaspoon of Mixed Herbs
1/2 a teaspoon of Black Pepper
1 teaspoon of Paprika
1 can of chopped Tomatoes
2 dessertspoons of Brown Sugar
2 cups of Tomato Sauce (Pasta Sauce)
Watch the full Video Tutorial
Instructions
Place the dried beans in to a large bowl and completely cover with cold water. Cover the bowl with a tea towel and leave to soak overnight or up to 24 hours.
After the beans have soaked, place the onions into a pan with the oil. Add the salt, mixed herbs, black pepper and paprika and give it all a quick mix through. Pour in the canned tomato, add the sugar and tomato sauce. Stir everything together. Drain most of the water from the soaked beans and add the beans to the tomato sauce. Place the lid on the pan and gently cook the beans for 2 – 3 hours until the beans are nice and tender. If the sauce becomes too dry add some water to the pan.
Once the beans are tender and cooked turn off the heat and allow the beans to completely cool down.
When the beans are cooled transfer them into sterilised jars or mason jars and store the beans in the fridge.
I found the beans mature the longer you keep them, so I tend to leave the beans at least 24 hours before consuming them.