A delicious Cajun Chicken Wrap Recipe
So simple, yet so delicious.
Continuing the Student Meals Series from my Kitchen, with very little equipment, in Kuala Lumpur, Malaysia.
How to make Cajun Chicken Wrap
Prep Time: 10 minutes
Cook Time: 5 Minutes
Ingredients
6-8 Chicken Filets
1-2 tablespoons of Cajun Spice Mix (or a spice mix of choice)
2 tablespoons of Oil
2-3 tablespoons of a Thick Yogurt
1 teaspoon of Honey
1 teaspoon of Mustard
Salt and Pepper
Lettuce
Wraps
Tomatoes
Beansprouts
Feta Cheese
Wraps (Flat Bread)
Watch the full Video Tutorial
Instructions
Prepare the chicken and cut into pieces. Sprinkle on the cajun spice mix and completely cover the chicken. Pour the oil into a fry pan and on a medium heat fry the chicken until it is a lovely golden colour. Once the chicken is cooked set to one side.
Place the yogurt into a bowl, add the honey, mustard and season with salt and pepper. Mix together until combined and smooth.
Prepare the lettuce, tomatoes, feta and anything else you want to add into your wrap.
Lay the wraps onto a board and layer the lettuce, tomatoes, beansprouts and feta on to the bread. Drizzle over some of the dressing and then lay on a good amount of the chicken. Time to roll up your wrap, roll it nice and tightly and then cut on a diagonal to cut in half and enjoy.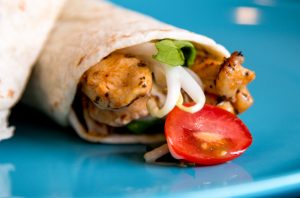 If you like the work I do? You can always buy me an expresso at https://www.patreon.com/SteveOwens but truly just a like will do
🙃💕