Join me as I explore and taste my way around the street foods of Hanoi. Where I have tested and tasted countless dishes so I could put together my Top 10 Street Food Tour of Hanoi for you all to enjoy.
Steve's Kitchen Food Tour In Hanoi
Download or Print the Map to see exactly where I went and what I ate
Google Maps: My Tour
PDF: My Tour
1. Bánh Mì Gà Nướng – Vietnamese Sandwich
Address: Bánh Mỳ AHA – 1 Hàng Mành
UPDATE: This store has changed its name to Bánh Mi A
Price: 25,000 VND
The Banh My is a Vietnamese Sandwich that is very much influenced by the French. It is often a baguette or torpedo shaped roll that is filled with delicious pate, chicken, pork or egg, salad and Crunchy cucumber and fragrant coriander finish off this fantastic Sandwich.
2. Phở Gà

 

– Chicken Noodle Soup
Address: Phở Gà Ta, 7 Đinh Liệt Street
Price: 30,000 VND
Phở Gà or Phở Bo – Chicken or beef noodle soup is often served for breakfast. A flavoursome broth with thick rice noodles, shredded chicken or beef, spring onions, coriander, ginger and you may want to add a little chili.
3. Bánh Tráng Trộn – Rice Paper Salad
Address: Co Hieu, 90 Hàng Trống
Price: 20,000 VND
This is a popular street food in Vietnam. Toppings include: dried shrimp, Vietnamese beef jerky, shredded green mango, peanuts, hard boiled quail eggs, Vietnamese coriander, and chili paste.
4. Phở Cuốn – Fresh Rice Noodle Rolls
Address: Cơm & Phở 12, 12 Lý Quốc Sư
Price: 40,000 VND
These spring rolls are fresh and light. They are filled with pork or chicken, bean sprouts, coriander and are served with a light dipping sauce.
5. Chả Giò – Vietnamese Fried Spring Rolls
Address: Cơm & Phở 12, 12 Lý Quốc Sư
Price: 40,000 VND
Similar to the fresh spring rolls but deep fried. Again served with that light dipping sauce they are delicious
6. Bánh Rán – Vietnamese Donuts
Address: A little store down Hàng Chĩnh
Price: 3,000 VND
Bánh rán is a deep-fried glutinous rice ball from northern Vietnamese cuisine. The outer shell is made from glutinous rice flour and it is filled with a sweetened mung bean paste.
7. Lẩu & Nướng – Grill & Hotpot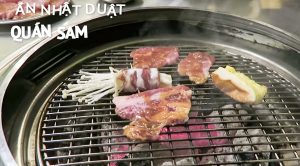 Address: Quán Sam, 94 Trần Nhật Duật
Price: 190,000 VND for two Including Drinks
This is a fantastic dining experience where you, as the customer get to cook your own food. You can chose from an array of different dishes of meat and vegetables to BBQ in the centre of the table.
8. Bún Chả – BBQ Pork & Rice Noodles
Address: Next to the Wolfhound Pub, 5 Lương Ngọc Quyến
Price: 100,000 VND for 2 Bún Chả and 1 Nem
Bún Chả is a light flavoursome broth served with rice noodles and salad on the side. It's accompanied by delicious grilled pork belly and pork meat balls. Often it's served with Nem which are fried pork spring rolls.
9. Kem Tươi Dừa – Toasted Coconut Ice Cream
Address: Hoa Béo, 17 Tô Tịch
Price: 60,000 VND
This was a delicious ice cream that was served in the young coconut shell, topped with shredded coconut , toasted coconut and jack fruit and the coconut water was served separately too. A real treat after a hot day on the streets of Hanoi.
10. Com Suon – BBQ Pork Ribs & Rice
Address: Com Suon 47, 47 Đào Duy Từ
Price: 50,000 VND
Although this is not traditional Vietnamese food it is still very popular in Hanoi. Succulent BBQ Pork ribs that just fall off the bone served with either steamed or fried rice.
Watch the Full Hanoi Food Tour Video