In a recent video I showed you the new Nestle Raspberry & Cheesecake KitKat and promised I would use it in a recipe.
So here is my Raspberry & Cheesecake KitKat Cheesecake – Now that's a mouthful. 😜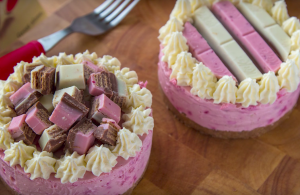 How to make Raspberry & Cheesecake KitKat Cheesecake
Prep Time: 10 minutes
Set Time: 1-2 Hours
Ingredients
60g / 2oz of Digestive Biscuits
4 Fingers of KitKat
60g / 2oz of Butter
250g/ 9oz Cream Cheese
1/2 a cup of Icing / Powdered Sugar
1/2 a teaspoon of Vanilla Extract
80ml / 1/3rd cup of Thick Cream
1/2 a cup of Raspberries
4 Fingers of KitKat, cut into small cubes
To Decorate
Whipped Fresh Cream
KitKat
I used 2 x 4″ / 10cm spring form tins.
To make 1 x 8″ cheesecake simply double the recipe above.
BUY Your Mini Spring Form Tins Here
For other products we use in this video Click Here
Watch the full Video Tutorial
Instructions
In a food processor blitz the digestive biscuits and the Kitkat fingers until they resemble crumbs. Add the melted butter and mix through then divide the mixture between the two spring form pans that have been lined with baking paper on the bottom. Press into the corners and make a nice even, firm surface before popping into the fridge to chill.
Place the cream cheese into a bowl with the powdered sugar and cream together until combined. Add the whipped cream and the vanilla extract and mix again until smooth.
Add in the raspberries and mix through the cream to form a lovely pink cheesecake filling. Cut the KitKat fingers into small cubes and add to the cream mixture, gently stir through.
Divide the creamy mixture between the spring form pans and smooth the tops then place back into the fridge for 1-2 hours to set firm.
Remove the cheesecakes from the fridge and take out of the tins. Decorate with fresh cream and extra KitKats and your cheesecakes are ready to enjoy!
If you like the work I do? You can always buy me an expresso at https://www.patreon.com/SteveOwens but truly just a like will do 
🙃💕