New Kitchen, Old Favourites,
Nacho Nachos, the Perfect Gooey cheese sauce..
Today we're playing with Nacho Cheese Sauce, how can we make it cheesy, stretchy and not set hard..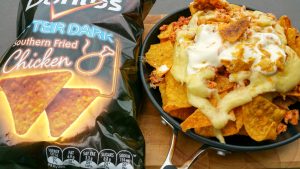 How to make Perfect Nacho Cheese Sauce
Prep Time: 10 minutes
Cook Time: 10 Minutes
Ingredients
15g / 1/2oz of Butter
15g / 1/2oz of All Purpose Flour
250ml / 1 cup Milk
Pepper
Nutmeg
170g / 6oz Mature Cheese, Grated
A few Jalapeños chopped
Corn Chips
Salsa
Sour Cream
Watch the full Video Tutorial
Instructions
In a frypan or saucepan, melt the butter and add the flour. Cook gently over a medium heat until the mixture starts to change colour, stirring constantly. Season with some black pepper, then pour in the milk and beat together until the mixture is smooth. Continue cooking until its thick and glossy.
Grate in some fresh nutmeg and add half the cheese. Remove from the heat and mix until the cheese has melted into the sauce. Add the remaining cheese and once again stir until melted. Roughly chop some jalapeno chilies and add to the sauce. Taste and adjust the seasoning if necessary.
Now assemble your Nachos, Layer the corn chips, meat sauce, cheese sauce, salsa and sour cream – it's just like a Mexican Lasagne. Enjoy !!!

If you like the work I do? You can always buy me an expresso at https://www.patreon.com/SteveOwens but truly just a like will do 
🙃