Fantastic Fried Onion Rings. Simple, Delicious and so easy to make at home if you follow Steve's 3 Tips for Perfect Crispy Onion Rings every time. Enjoy!!
CRISPY ONION RINGS RECIPE – Perfect and Crunchy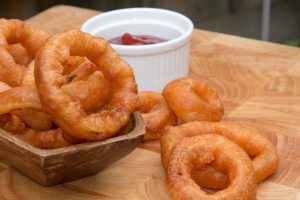 How to make Crispy Onion Rings
Preparation Time: 5 minutes
Frying Time: 3 Minutes
Oil Temperature: 190C / 375F
Ingredients
1.5 cups of All purpose / Plain Flour
1 Bottle / 1.75 cups of Beer or liquid of your choice
2 teaspoon of Paprika
2 teaspoons of Sugar
2 teaspoons of Salt
1 teaspoons of Garlic Powder
Some Black Pepper
Onions cut into thick Rings
Oil for frying
Watch the full Video Tutorial
Instructions
Into a bowl add the flour and pour in the beer. Whisk together to form a smooth batter and then add the paprika, sugar, salt, garlic powder and black pepper. Continue to whisk until everything is combined and smooth.
Now it is important at this point to taste your batter to see if the seasonings are enough. If it tastes bland now it will not taste any better once its cooked.
Slice the onions into 1cm / 1/2 inch slices – don't slice the onions too thin or you will end up with all batter and no onion- and then seperate the slices to form rings. Drop the rings into a little flour to coat them over, this will absorb some of the excess moisture and make them more crispy when you fry them.
Next you need to drop your flour coated rings into the batter and coat them thoroughly.
Heat a pan of oil until 190C / 375F is reached and then gently drop the rings into the hot oil. If you hold the rings for a few seconds before you let them go them will not drop to the bottom or stick together.
Cook the rings for 1.5 minutes and then flip them over and cook for another 1.5 minutes – so 3 minutes in total.
Remove the rings from the oil when they are golden brown and pop them onto some kitchen paper to drain and then they are ready to serve.