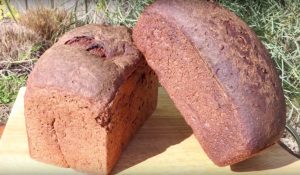 Pumpernickel is one of my favorite breads of all time and I was reminded of my old recipe when I was messaged by a viewer, Babsi Schafer, who had been watching another of my German recipes Bretzels
For Pumpernickel Purest?
Please Read Below **
** I have been told that the Wikipedia says "Bake for 20 Hours" and don't use Yeast use Sourdough Starter, (which is actually yeast) Otherwise it's not a Pumpernickel.
Rising with Sourdough over 8 Hours and then Baking for 20 Hours just isn't conducive with modern Baking, SourDough Starter is just a Natural Yeast, as is Bakers Yeast, My Recipe is designed to help the modern Baker Produce, as close as possible a Pumpernickel, in a *fraction* of the time.
I do appreciate those wanting to point out this is not a True Pumpernickel, However, Please judge after you have tried it. If you wish to spend a kings ransom on Gas or Electric cooking a 1450's recipe for 20 hours please feel free to do so.
Almost (note I say almost) all commercial Pumpernickel have dispensed with the SourDough Starter and use a combination of Bakers Yeast and Citric acid to get their piquant flavor, I prefer using cocoa and coffee to a similar effect.
I hope this explain my Theory. I am not right, for I am always learning but this is a damned fine Pumpernickel in my eyes.**
PUMPERNICKEL BREAD RECIPE – Bakes in Only 30 Minutes
How to make Pumpernickel Bread
Prep Time: 2-3 Hours
Cook Time: 30 minutes
Oven Temperature: 200-220C / 400-425F
Ingredients
200g / 7oz of Strong White Bread Flour
120g / 4oz of Wholewheat Flour
100g / 3.5 oz of Rye Flour
3 teaspoons of Dried Active Yeast
1.5 teaspoons of Salt
3 tablespoons of Dutch Processed Cocoa Powder
1 teaspoon of Ground Coffee
1 tablespoon of Caraway Seeds
270ml / 9 fl oz of warm Water
1 .5 tablespoons of Vegetable Oil
3 tablespoons of Molasses or Treacle
Watch the full Video Tutorial
Instructions
In a large bowl place all of the flours, yeast, salt, cocoa, coffee and caraway seeds. Give them a quick stir through. Pour in the water and add the oil and molasses or treacle. Use a fork or a spoon to mix all the ingredients together and once it starts to form a dough, use your hands to form a nice ball. Tip the dough out of the bowl onto a floured surface and knead for a good 10 minutes.
Then place the dough back into a bowl that you have coated in oil, coating the ball f dough all over with the oil. Cover with some plastic wrap and leave in a warm place to allow the dough to double in size. This can take around 1-2 hours depending on temperatures.
Once the dough has doubled in size, remove from the bowl and 'knock' the air out of it. Fold one third of the dough over itself and then pull the other third over that. Then give it a slight roll to form a loaf/sausage shape.
Pop the shaped dough into a 2lb / 1kg loaf tin and cover with a damp cloth. Set it aside agin in a warm area to double in size.
Again depending on your temperature this may take between 45 – 90 minutes.
Preheat the oven to 200-220C /400-425F and place a tray of boiling water at the base of the oven to create some steam. Place the bread into the oven and bake for 30 minutes until cooked.
Once baked remove from the oven, tip out of the bread tins and allow to completely cool before slicing.
If you like the work I do? You can always buy me an expresso at https://www.patreon.com/SteveOwens but truly just a like will do