Delicious Ice Cream Cake made with the New Nestlé KitKat Tiramisu Duo.
Simple to make with very little equipment, go on give it a try and let me know what you think 😋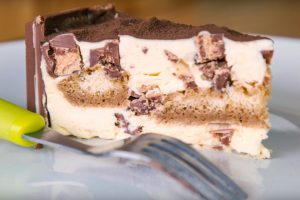 How to make Tiramisu KitKat Ice Cream Cake
Prep Time: 10 minutes
Set Time: 6-12 Hours
Ingredients
500ml / 2 cups of Thick Cream, Whippe
1 x can / 395 / 14oz of Sweetened Condensed Milk
1/2 a teaspoon of Vanilla Extract
170g /6 oz / 11 Sticks of Tiramisu KitKat, Chopped
1 shot of Strong Coffee
1 shot of Marsala or Fortified Wine
8-9 Ladyfinger Sponge Fingers / Savoiardi
Cocoa to dust the top with
18-20 Tiramisu KitKat Fingers to Decorate the outside
I used an 8inch loose bottom Pan like this: Click Here
For other products we use in this video Click Here
Watch the full Video Tutorial
Instructions
Whip the cream until it is nice and stiff. Add the Sweetened Condensed milk and the vanilla extract in with the cream. Chop up the KitKat sticks into small cubes and add to the cream and then gently mix together to get nice and smooth. Pour half the mixture into a 8 inch tin lined with waxed paper and set to one side.
In a separate bowl mix together the coffee and wine and dip the sponge fingers in. Make sure they are completely covered but do not leave them in the liquid too long as they become soggy very quickly. Lay the sponge fingers on top of the ice cream in the tin to form a layer. Pour the remaining ice cream over the sponge fingers and gently tap the tin to level the tin. Place in the freezer for at least 6 hours or even overnight to set firm.
Take the Frozen cake out from the freezer and remove from the tin. Dust over the top with some rich dark cocoa powder and decorate the sides with sticks of Tiramisu Kitkat. Either serve immediately or place back into the freezer until you are ready to serve your cake.

If you like the work I do? You can always buy me an expresso at https://www.patreon.com/SteveOwens but truly just a like will do 🙃💕