It's Trick or Treat, Treat Week all this week and Steve is starting it all off with this great Vampire Choc Chip Cookies. Super easy halloween treats made with store bought cookies. Even the kids can make these 🎃 💕 😋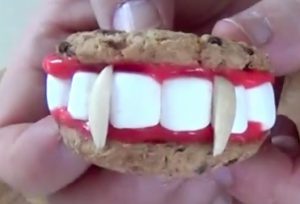 How to make VAMPIRE CHOCOLATE CHIP COOKIES
Prep Time: 10 minutes

Ingredients
You will Need – For Each Cookie
2 Chocolate Chip Cookies
6 Mini Marshmallows
Red Frosting
2 Slivers of Almonds
For products we use in this video Visit Here
Watch the full Video Tutorial
Instructions
Turn the cookies upside down and pipe a semi circle of the frosting around the edge of each cookie. Place a big spot of frosting at the opposite side (this forms the hinge) on one cookie.
Take the mini marshmallows and bed them into the frosting like teeth. Place the second cookie on top of the first, pressing it gently onto the frosting hinge.
Place the slithers of almonds equal distance apart to form the fangs. Hey presto! Quick and easy Vampire Chocolate Chip Cookies ready for Halloween.
 If you like the work I do? You can always buy me an expresso at https://www.patreon.com/SteveOwens but truly just a like will do 
🙃💕