Fruit of the Vine Rosemary Bread – The taste of fresh bread combined with fresh rosemary and juicy sultanas is fantastic. Sultanas, Rosemary and Bread – Now that is a delicious combination.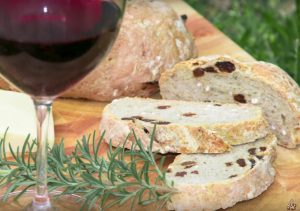 How to make Fruit of the Vine & Rosemary Bread
Preparation Time: 1.5 – 2 hours including Proving
Cook Time: 25-35 Minutes 
Oven Temperature: 190C / 370F 
Ingredients
350g / 12oz of Bread / Strong Flour
100g / 3.5 oz of Rye Flour
100g / 3.5oz of Mixed Grain (I used Oatmeal, Wheat berries and Semolina)
2 teaspoons of Salt
2 teaspoons of Dried Yeast
300ml / 10 fl oz of Warm Water
1.5 tablespoons of Fresh Rosemary
100g / 3.5oz of Sultanas
Watch the full Video Tutorial
Instructions
In a large mixing bowl place the bread flour, rye flour, the mixed grain, salt and away from the salt, the yeast. Pour in the warm water and using a fork start to mix together to form a dough.
As the dough starts to come together it s time to get your hands in there and combine to a sticky dough. Tip the dough out onto the work surface and knead for about 10 minutes until the dough is lovely and silky smooth.
Flatten the dough a little and add the chopped rosemary on top of the dough and then pour on the sultanas, continue to knead the dough until the rosemary and sultanas are incorporated into the dough. Pour some olive oil into the mixing bowl, place the dough in the bowl coating it with the oil. Cover the bowl and place somewhere warm for about an hour or until the dough has doubled in size.
Once the dough is nice and plump, knock it down and remove from the bowl. Place it onto a lightly floured surface and gently roll up into a nice tight roll. Cut the dough in two to form two loaves. Take each piece of dough and ease it out into a sausage shape, tucking it under and forming a nice bloomer shape with your hands. Place onto a baking tray and repeat with the other piece of dough. Cover with a damp cloth and again leave somewhere warm for about 30 minutes to double in size.
Preheat the oven to 190C / 370F and when the bloomers have proved, using a sharp knife cut a few slashes across the surface to allow the loaves to 'bloom' whilst baking. Place in the oven and bake for 25-35 minutes or until nice and crispy and they sound hollow when tapped on the underside.
Remove from the oven and allow to cool before serving. Enjoy!!

If you like the work I do? You can always buy me an expresso at https://www.patreon.com/SteveOwens but truly just a like will do