Join me in the Kitchen to make a Delicious Banoffee Crumble.
Michele's favourite crumble is one that she used to order in Sri Lanka, it was a Banana Crumble and had all the tropical goodness of of that wonderful Island.
Today I'll put a twist on that Crumble, inspired by everybody's favourite.. The Banoffee Pie , meet Steve's Banoffee Crumble, with Ice Cream.. of course 😉
Banoffee Crumble – Easy Recipe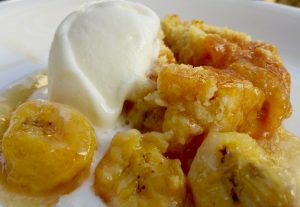 How to make Banoffee Crumble
Prep Time: 10 minutes
Toffee Cook Time: 10-15 minutes
Oven Temperature: 180C/350F
Cook Time: 25 minutes
Ingredients
5 or 6 Ripe Bananas
1 Lemon
For the Caramel Sauce
200g / 1 cup / 7oz Sugar
100g / 1/2 a cup / 3.5oz of Water
100g / 1/2 a cup / 3.5oz of Cream
For the Crumble Topping
250g / 2 cups / 9oz of Flour
125g / 1 stick / 4oz of Butter
100g / 1/2 a cup / 3.5oz of Sugar
Watch the full Video Tutorial
 Instructions
Slice the banana and place in an ovenproof dish.
Cut the lemon in half and squeeze the juice over the bananas (this will help to stop the bananas going brown as well as adding extra flavour).
Start to make the toffee caramel sauce by placing the sugar into a pan. Add the water and turn on a medium heat. Allow the sugar to slowly heat and dissolve completely. You do not need to stir the mixture. Once the sugar has completely dissolved continue to simmer the mixture until it goes a lovely honey brown colour or it reaches 176C / 350F on a candy thermometer.
Whilst the toffee sauce is coming up to temperature you can make the crumble topping. Place the flour into a bowl and add the soft butter and gently rub into the flour until you have fine breadcrumbs.
Now add the sugar and stir through.
Once your toffee sauce has reach the desired colour / temperature immediately remove from the heat. Allow the bubbles to slow down a little  and then carefully pour in the cream. Stir quickly but be careful as the mixture will bubble up. Once you have a smooth toffee sauce you can then pour it over the bananas.
Now top with the crumble topping and spread evenly over the top of the fruit and sauce.
Place into a preheated oven 180C/350F for 25 minutes or until golden brown on top. Remove from the oven and ALLOW TO COOL. Remember the toffee sauce will be extremely hot as it is molten sugar😀 Once your crumble has cooled serve with Ice cream and Enjoy.