Cuban Bread is a must if you want to make your own Cuban Sandwich. Marcel Hebert, a subscriber asked me to make this Cuban Sandwich…
So I'm starting here with the bread. Thanks Marcel, I'll save you a corner 😜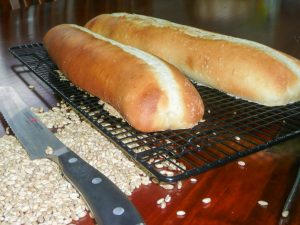 How to make Cuban Bread
Preparation Time: 2-3 Hours including Proving Time
Cook Time:18-20 minutes
Oven Temperature: 200C / 400F 
Ingredients
1 1/4 cups of Warm Water
2 Teaspoons of Sugar
2 Teaspoons of Dried Yeast
500g / 1lb of Bread Flour
2 Teaspoons of Salt
1/4 a cup of Lard
Watch the full Video Tutorial
Instructions
Pour the water into a mixing bowl, add the yeast and the sugar and give it a stir. Cover the bowl with a cloth and set aside for about 20 minutes to allow the yeast to bubble and froth.
Once the yeast is bubble add the flour and salt and stir with a fork until a dough starts to form. Now using your hands draw all the flour into the dough. Add the softened lard into the dough and continue to mix until it is all incorporated.
Continue to knead the dough  on your countertop for 10 minutes until it becomes smooth and silky.
Place back into a bowl that has a little bit of vegetable oil in that you will use to coat the dough. Cover the bowl with plastic wrap and set aside in a warm place for 1-2 hours to allow the dough to double in size.
When the dough is ready remove from the bowl and place onto a warm surface, knock the air out and divide in two. Dust your work surface with a little flour and using one piece of the dough push and press it out into an oblong shape. Then using a rolling pin roll out the dough into a nice even oblong.
Turn the dough over so the rough side becomes the inside of your bread and starting at the long edge, roll up the dough quite tightly using your fingers to create tension on the surface. Wet your fingers and tuck in each end so they are nice and square.
Sprinkle some coarse semolina onto a baking tray and place your bread dough onto the tray. Repeat with the second piece of dough.
I use a wet shoelace to lay across the top of the dough  (in place of palm fronds) to create the traditional crack across the bread. Lightly press the shoelace into the dough. Cover the baking tray or place in a plastic bag and set aside in a warm place for 45-60 minutes to allow the dough to double in size.
Preheat the oven to 200C / 400F and when the bread is ready, brush the tops with water and place in the oven. Bake for 18-20 minutes but after five minutes brush over the bread with water once again. The bread is ready when it is a nice golden brown.
Remove from the oven and remove the shoelaces, place on a cooling rack to cool.
Your Cuban Bread is now ready to make a delicious Cuban Sandwich.
If you like the work I do? You can always buy me an expresso at https://www.patreon.com/SteveOwens but truly just a like will do
🙃💕