A simple, quick and easy Homemade Hummus made in a blender. Tasty and delicious – it's sure to be a winner😎 💕
My Homemade Tahini Recipe
Dip Playlist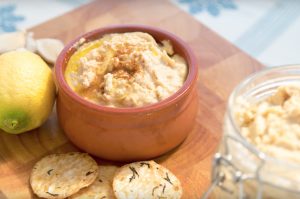 Steve's Kitchen, is FREE consider Becoming a Patreon we Love our Patreons, they keep the show Rolling
Or send some Love through PayPal every little helps.. ❤️
How to make HUMMUS
Prep Time: 5 minutes
Makes: About 1 kg / 2.2lb
Ingredients
3 Cans of Chickpeas ( Drained weight 240g/ 8oz each)
2 Lemons, Juice and Zest
3 tablespoons of Olive Oil
1 -3 Garlic Cloves
3 tablespoons of Tahini
A pinch or 2 of Sea Salt
up to 1/2 a cup of the Chickpea Juice
Drizzle with Olive oil and sprinkle with Smoked Paprika to serve.
The Boss Breville Blender is Available through Amazon and many great online retailers Here
For other products we use in this video visit Here
Watch the full Video Tutorial
Instructions
To make the Hummus place the drained chickpeas into the blender jug and add all the other ingredients. Pour in half the reserved chickpea juice and turn your blender onto pulse.
Pulse for 20-30 seconds or until the consistency that you desire is reaches. Add the remaining chickpea juice if the hummus id too dry.
Taste the hummus and add any extra flavourings that you may require.
Decant the Hummus into a serving dish and drizzle with olive oil and paprika before serving. Enjoy!