When dreaming about Food can get you killed, you know it's season 7 of the Walking Bread.. Dead, I mean.
I had a lot of fun making this one, Share it with friends to help spread the Halloween Misery. Did I just say that?? Share anyway 👻💀
Royal Icing Recipe: https://youtu.be/8MkLit00SNQ
Share the Love, Share the Video and Say Hello to #StevesKitchen
It's Halloween time on #StevesKitchen and these Walking Bread were a bit of fun.
The WALKING BREAD – Walking Dead Season 7 Recipe
How to make The Walking Bread Gingerbread Men
Prep Time: 30 minutes
Cook Time: 10 minutes
Oven Temperature: 350F / 180C
Makes 12-18 Cookies
Ingredients
100g / 3.5oz Butter
100g / 3.5oz of Granulated Sugar
1 Egg
175ml / 3/4 of a cup of Molasses or Treacle
4 teaspoons of pumpkin Spice
450g / 1lb of All Purpose / Plain flour
White, Black, yellow and Red Royal Icing
Watch the full Video Tutorial
Instructions
Cream the butter and sugar together until light and fluffy. Then add the egg and mix. Pour in the Molasses or treacle and thoroughly mix through. Add the spice and flour and start to mix with a wooden spoon.
Once everything is starting to come together use your hands to form a lovely soft dough. and then place the dough in the fridge for 30-60 minutes to chill so it is easier to handle.
Once the dough has chilled remove from the fridge and on a lightly floured surface roll out to about 1/2 inch thick. Cut out your walking Bread.
Place the cookies onto a baking tray. Use silver foil to shape your walking bread men.
Cut away any extra 'pieces' from the cookies that you think will make them look more 'zombie like'.
Place into a preheated oven for 10 minutes. Once cooked remove from the oven and allow to cool completely. Make up some royal icing in red, black, yellow and white and use the royal icing to decorate your zombies.
Have fun and Happy Halloween.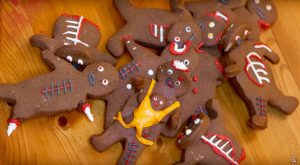 If you like the work I do? You can always buy me an expresso at https://www.patreon.com/SteveOwens but truly just a like will do 
🙃💕