Making an easy Chicken Risotto in a kitchen with very little appliances. Great for Students as its super easy and quick to make.
And of course very Delicious you just have to try this.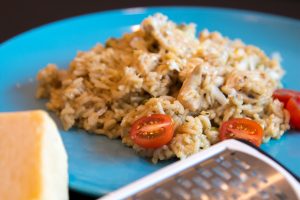 How to make Chicken Risotto
Prep Time: 10 minutes
Cook Time: 25 Minutes
Ingredients
10oz / 300g of Lean Chicken (I used Chicken Fillets)
1 tablespoon of Cooking Oil
A Pinch of Salt
A good sprinkle of Pepper
1 dessert spoon of Dried Mixed Herbs
2 tablespoons of Olive Oil
1.5 cups of Rice (I used Brown Rice)
3 cups of Water
2 cubes of Chicken Stock
1 cup of Frozen Mixed Vegetables
2 teaspoons of Mixed Dried Herbs
2 tablespoons of Light Soy Sauce
1 tablespoon of Olive Oil orSesame Oil
Parmesan Cheese to serve (Optional)
Watch the full Video Tutorial
Instructions
Prepare the chicken and cut into cubes/chunks. In a fry pan add some oil and start to fry the chicken. season with salt and peeper and allow one side of the chicken to brown before turning it over to brown the second side. Once you have turned the chicken add in the dried herbs and remove from the heat when the chicken is nicely brown.
Pour the 2 tablespoons of oil into a saucepan and add the rice. Stir and coat the rice with the oil. Now add the water to the pot with the stock cubes. Season the stock with the herbs and soy sauce. Add the vegetables and the extra oil and then tip in the cooked chicken. Give it all a stir through and bring the boil.
Now turn the heat right down so you have a gentle simmer and simmer for 25 minutes. When there a re a couple of minutes to go keep an eye on the pot and make sure the rice doesn't stick to the bottom of the pan. You can give it a quick stir through at this stage.
Once all the stock has been absorbed your Chicken Risotto is ready to be served.
If you like the work I do? You can always buy me an expresso at https://www.patreon.com/SteveOwens but truly just a like will do
🙃💕