As promised in an earlier Episode, here is my Easy White Chocolate Ganache Recipe..
White Chocolate Ganache is super easy to make but it is a little different to regular Chocolate Ganache – so watch carefully 😀 💕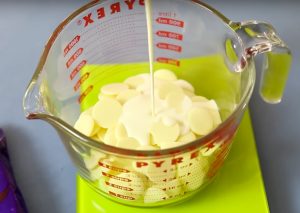 Steve's Kitchen, is FREE consider Becoming a Patreon we Love our Patreons, they keep the show Rolling
Or send some Love through PayPal every little helps.. ❤️
How to make White Chocolate Ganache
Prep Time: 2 minutes
Cook Time : 15-60 Seconds in a microwave
Ingredients
170g / 6oz of White Chocolate
57g / 2oz of Thick Cream
For  products we use in this video visit Here
Watch the full Video Tutorial
Instructions
Place the white chocolate into a microwave safe bowl and add the thick cream. Pop into the microwave and heat on high for 15-30 seconds. You want the chocolate to just start to melt but remember the chocolate may not actually look like it has melted so be careful not to overheat the chocolate and burn it.
Remove the bowl from the microwave and stir through. If there are still chocolate solids visible place back in the microwave for 5-10 seconds. Mix together thoroughly and set to one side to cool.
If you want to pour over a cake you may need to warm the ganache a tiny bit in the microwave before using.
If you want to use it for coating or crumb coating a cake allow it to cool completely and it will thicken.
And if you want to pipe with it to decorate cakes or cupcakes you can whip it up so it lightens in colour and texture.