Full Show Notes Below
 Take a moment to Comment or just say Hello in the comment section below this Article (It's New) LOL
Wonton Dumpling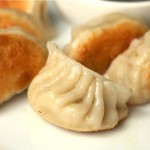 Ingredients
* Wonton Skins (Generally Available in many Asian Stores if not see note below)
500g / 1lb of Ground Pork or –
You may use Ground Chicken, Shrimp or any meat of your choice
1 Tablespoon of Rice Flour although any flour will do.
1-2 Cloves of Garlic
About 1 inch of Chopped Ginger
2 tablespoons of Light Soy Sauce
1 tablespoon of Oyster Sauce
1/2 a teaspoon of Salt
Chilli – optional
A Good Handful of Fresh Cilantro or Coriander
2-3 Chopped Spring Onions or Scallions
4-5 Chopped Chives
The Meat is Essential but you can mix up the spices and herbs to suit your preference, I sometimes add a little Chinese Cooking wine and sometimes some Shiitaki Mushrooms but Like I say the ingredients are flexible to your likes.
* Wonton Skins can be bought in most Asian Supermarkets, if you can not find them there is a recipe on my site for Chinese Pancakes. It is exactly the same technique but they do not need to be rolled so thin or steamed just follow instruction up to 3 minutes 45 seconds and you will have home made Dumpling Skins.
FOODTalk News This week.
Fools Gold
We shouldn't put gold leaf onto our food says The Independent Newspaper, you naughty people! It has no Nutritious Value.. And stop smiling it is not helping the economy "Don't let me tell you again"  Should we therefore remove leather seats from our executive cars, they after all add nothing to an engines speed, fuel efficiency or practicality and the whilst we are at it lets make sure the the Louvre in Paris remove the frames from their painting of the Mona Lisa, it is after all just adding unnecessary weight to an over burdened picture hook?. Why do I feel that way?  Watch and see?
Full story Here
http://www.independent.co.uk/life-style/food-and-drink/news/fools-gold-using-the-precious-metal-in-food-is-pointless-and-outdated-9789293.html
Choc Noodle
To Celebrate the National Chocolate week, multi billion dollar Unilever Brand "Pot Noodle" announce the Choc Noodle, This 100% Chocolate Free, chocolate dessert version of the very popular Pot Noodle is said to offer the consumer the full meal experience all in two Styrofoam Pots? To quote Monique Rossi,  Pot Noodle Marketing Manager
"We know our fans love the ultimate comfort food flavours in a pot and our first chocolate dessert offers another occasion to enjoy their favourite noodles with delicious ease. Our Choc Noodle still only takes four minutes to prepare and is the perfect end to any meal. We've taken advice from Paul A. Young, the best in the chocolate business, to ensure our dessert will impress even the pickiest of critics!"
What can I say? "Perfect end to any Meal"  Monique? Let us just pause a moment to conjure up a picture of Unilever Executives, dining in the Wardorf Hotel and reaching for the Menu in the hope that they can cap their evening meal off with artificial Chocolate flavoured noodles in a Styrofoam pot?  It could happen… :o)
Full Story here
http://www.independent.co.uk/life-style/food-and-drink/news/choc-noodle-is-the-chocolate-pot-noodle-nobody-asked-for-9791155.html
Worlds Largest Pumpkin at over 2000lbs – 907KG
With Halloween upon us the worlds largest Pumpkin in California weighed in at over 2000lb. Is it me or does it look a little like Jabba the Hutt :o)  Comment down below..
Full Story Here :
http://www.syracuse.com/news/index.ssf/2014/10/one_ton_pumpkin_in_north_california_sets_record_for_worlds_largest_pumpkin.html
Warm beer to be served in fridge
In Vietnam Officials are trying to enforce a Law to say Beer can only be sold in a Cold Room?  No doubt pushed by the family that own a chain of expensive Air-conditioned Bars and not at all an effort to squeeze out the small independent retailer. Is there anywhere in the world governments are not dancing to the beat of corporations?
Full Story here :
http://asiancorrespondent.com/127272/official-aims-to-outlaw-warm-beer-in-vietnam/
Events during the Show
Anne from EZGlutenFree said hello on the show  today and I just want to direct you to her wonderful Channel. Anne specialises in Gluten Free Cooking, her creativity and enthusiasm is boundless.
Also a Big Hello to Steve of Steve's Cooking another great Chef on YouTube and my Yorkshire Friend. Steve was a viewer on the show last week and I just want you to take a moment to check out Steve's Superb Skills.
Steve Used to be a pig farmer, ooh arr! ooh arr!  LOL