Balinese Satay Lilit and Sambal Matah Recipes are below
Steve was fortunate enough to meet the Sigit Purwanto who is the Executive Chef at The Amnaya Resort, Kuta in Bali, Indonesia.
They thought it would be fun to film a recipe together and of course it had to be the Balinese Classic Satay Lilit with a delicious Sambal Matah on the side.
Watch the full Video Tutorial
How to make Sambal Matah
Prep Time: 5 Minutes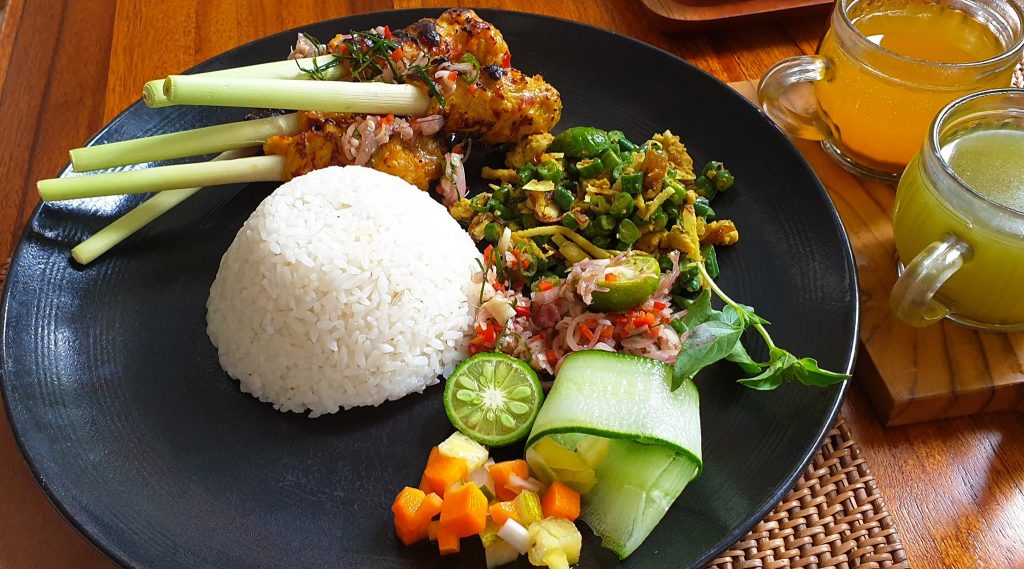 Ingredients
Green Chilies
Shallots
Kaffir Lime Leaves
Terasi Udang / Shrimp Paste
Lemongrass
Lime
Red Pepper
Extra Virgin Coconut Oil
Instructions
First you will need to bruise the lemongrass with the back of your knife and then finely slice it. Next finely slice the shallots and place into a small mixing bowl with the lemongrass
Take the red pepper and cut into Brunoise or finely dice and add to the mixing bowl
Chiffonade or finely slice the Kaffir Lime Leaves, place into the bowl and then slice the hot green chilies with the seeds and add with the other raw ingredients
In a hot skillet add some coconut oil and fry the shrimp paste for about 30 seconds just to infuse with the oil. Then pour the hot oil and shrimp paste over the raw ingredients. Use your hand to mix through, add a squeeze of lime juice and set to one side.
How to make Satay Lilit
Prep Time: 5 Minutes
Ingredients
Fish, Chicken Or Pork
Ginger
Coriander Seeds
Turmeric
Shallots
Red Chili
Candlenut
Garlic
Tomatoes
Terasi Udang / Shrimp Paste
Lemongrass
Coconut Oil
Salt
A Splash of Water
Tamarind Juice
Instructions
To make the spice mix to coat the fish you will need to roughly chop into small pieces the Ginger, Turmeric, shallots, red chili, candlenut, garlic, lemongrass, and tomatoes.
Add some coconut oil into a hot skillet and add all the chopped ingredients. Add the coriander seeds and shrimp paste and saute in the oil for a minute or two then pour into a blender with a splash of water and blend until smooth.
Take the fish, chicken or pork and finely chop and mince to form almost a paste like consistency.
Pour the blended spices back into the skillet and cook through for about a minute or so, season with a little salt and add a spoonful or two of the Tamarind Juice. Mix through and then pour onto the chopped fish, chicken or Pork.
Mix through with your hand and thoroughly coat the meat with the spices. Now your satay lilit can be formed onto the lemongrass skewers.
Cook over hot coals on a small BBQ until golden in colour and then serve with rice, vegetables and the delicious sambal matah.
Huge Thanks to Chef Sigit for sharing this wonderful recipe with us and thanks also to the Amnaya Resorts for the beautiful setting.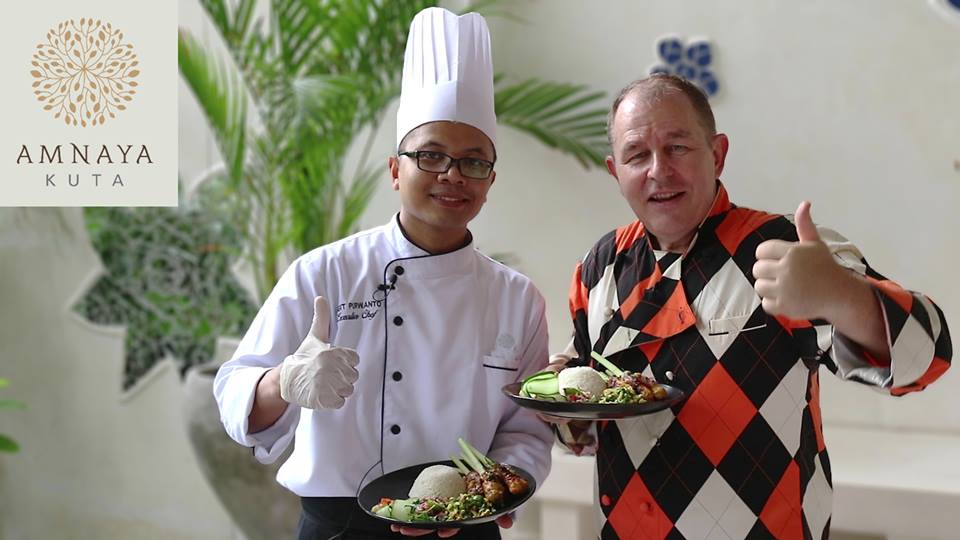 If you ever get the opportunity to visit Bali be sure to stay at The Amnaya Resort, they really go out of their way to make sure you have a fantastic time and don't forget to say Steve Says Hi.
This is not a sponsored post in any way but we had such a fabulous time we wanted to share it with you all 😎
Steve's Kitchen, is FREE consider Becoming a Patreon we Love our Patreons, they keep the show Rolling
Or send some Love through PayPal every little helps..