Why not turn a simple sugar cookie recipe into Spooky Witches fingers which are always a winner on Halloween, plus they are super easy to make. Place them partly covered under a Halloween napkin, the kids will love pulling them out.
Jam/Jelly is your friend, use it to create the tastiest blood around the nails.
These make a really cool treat for the kids to make and eat…….
How to make Witches Fingers Cookies.
Prep Time: 10 minutes
Rest Time: 1 Hour + 45 minutes
Oven Temperature: 190'C / 400'F
Cook Time: 8 – 10 minutes
Servings: 12 – 14 Fingers
Ingredients
1 cup / 250g of Butter, Melted

2.5 cups / 310g of All purpose / Plain Flour

1/2 a cup / 100g of Castor Sugar

1/2 a teaspoon of Vanilla Extract

A few drops of Green Food Colour

Whole Almonds
Watch the full Video Tutorial
Instructions
Place the melted butter in a bowl and add the flour and sugar. 

Mix together, using a fork, then add the vanilla extract and food colour and continue mixing until the colour is fully incorporated.
Cover the dough and place in the fridge for an hour.


If you are using coloured Almonds, now is a good idea to soak the almonds in the food colour.

Take 1.5oz / 50g of the cookie dough and roll it out to slightly longer than a regular finger.
Place onto a baking tray. Pop an almond at one end and push it into the dough a little. Shape the dough around the almond so it looks like the end of a finger.
Make two indentations evenly along the dough with your fingers. This pushes the 'knuckles' up which then you can mark with three lines to make the knuckle joints.


Once all the cookies are shaped place the tray in the fridge for 45 minutes to chill.

Pre heat the oven to 190'C / 400'F.
Bake in the oven for 8-10 minutes. Remove and allow to cool.
Once cool, remove the almond and place a small amount of red jam in the cavity and replace the almond, pressing gently to allow the 'blood' to ooze around the 'nail'.
To serve, place on a serving tray and cover the end with a napkin so the fingers are 'poking out'.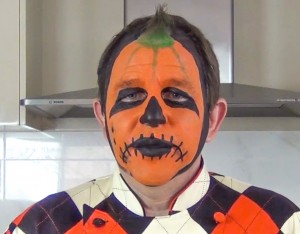 If you like the work I do? You can always buy me an expresso at https://www.patreon.com/SteveOwens but truly just a like will do 
🙃💕