Soulcakes or Soul Cake is a traditional Halloween treat that pre dates the modern Trick or Treating of Hallows Eve or Halloween.
This Simple and Delicious Cake, closer to what we might call a cookie in modern days, was a large round sweet biscuit, formed with a cross, a religious symbol but perhaps too a breaking point in the cookie, this after all was a time of great rejoicing, tom foolery but above all giving and sharing.
If you want for a Traditional Halloween treat which still thrills children, many hundreds of years on, nothing in my mind says Hallows Eve, like a soul cake.
How to Make Soul Cakes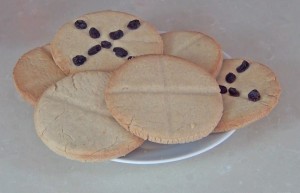 How to Make Soul Cakes
Prep Time: 10 minutes plus 30 minutes
Oven Temperature: 180'C / 350'F
Cook Time: 15 to 20 minutes
Servings: 6 cookies
Ingredients
2.5 cups of All Purpose / Plain Flour

2/3 of a cup of Softened Butter

3/4 of a cup of Castor / Superfine Sugar

1/2 a teaspoon of Mixed Spice

1/2 a teaspoon of Nutmeg

1 Egg

1/2 a teaspoon of Cinnamon

2 teaspoons of Vinegar

Sultanas to Decorate
Watch the full Video Tutorial
Instructions
Sift the flour into a bowl, add the softened butter and using your fingertips rub together to form fine breadcrumbs. 

Stir through the sugar, mixed spice, nutmeg and cinnamon. 

Add the beaten egg and mix through with a spoon.


Now add the vinegar and using your hands, form the mixture into a soft dough. 

Cover with a damp cloth and leave to one side for about 30 minutes.

Pre heat the oven to 180'C / 350'F. 

Roll out the dough, on a lightly floured surface, to about 1/2 inch / 1.25cm in thickness. 

Cut out large circles using a cookie cutter and make a cross indentation on the top. 

Place on a baking tray and decorate with sultanas.

Bake in the oven for 15 to 20 minutes until golden brown.
Remove from the oven and allow to cool.


 If you like the work I do? You can always buy me an expresso at https://www.patreon.com/SteveOwens but truly just a like will do 

🙃💕