Ingredients for Todays Xmas Dim Sum
400g / 13.5oz White Milled Self Raising Flour  (or use Self rising flour with an extra Teaspoon of Baking powder).
1/8 Cup of White Sugar
1 Cup of Luke Warm Milk
Store Bought or Steve's Home Made Mincemeat (Video Recipe Below)
Also Check out Steve's Christmas Mince Pies.
And Brandy Butter..
---
Food News
Chestnut Praline Latte
StarBucks Launch First New Holiday Drink in 5 Years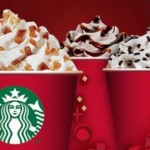 ---
Bubblegum Broccoli 
McDonald's, not happy with failing to pass off Horse Meat as Beef, have been further fiddling with Nature. The Idea was to make Broccoli Taste like Bubble Gum to Entice Adults? to Eat their Veg or was it to Entice Kids into their store and eat their burgers and Sundaes ?? Anyway it failed at the first jump, I say Thankfully.
---
Too much Sugar in Fruit Juice aimed at Children
The story that many of the Jolly Cartoon Embellished Fruit Juices aimed at kids contain way to much sugar, in some cases more than a Coca Cola!
---
 We are running out of Chocolate :o(
Quick hide the Toblerone
A recent report that with greater demands from Asia for Chocolate, we may see a Shortage of Chocolate by 2020 ??
---
If you want to make your own Char Siu
Long Authentic version…
Simpler Version
And if you like, Steve's Char Siu Boa (With Pork)