Check out my recipe for delicious No Bake Granola Bars – one last recipe in my Student Meals Series from Malaysia – Maybe??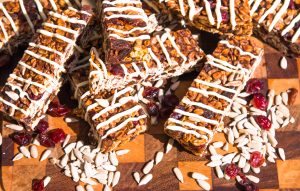 How to make Easy Granola Bars
Prep Time: 10 minutes
Cook Time: 5 Minutes
Ingredients
230g / 2.5 cups of Oats
60g / 1/2 a cup of Dried Cranberries
60g / 1/2 a cup of Raisins
60g / 1/2 a cup of Sunflower Seeds
65g / 1/2 a cup of Chocolate Chips
110 / 1/3 a cup of Honey
60g / 2oz/ 1/4 a cup of Butter
50g / 1/4 a cup of Brown Sugar
White Chocolate to drizzle over the top
Watch the full Video Tutorial
Instructions
Place the Oats into a large pan or fry pan and over a medium to high heat toast the oats until they are a lovely golden brown. Once they have got some colour pour them into a bowl to stop the oats getting any darker and burning.
In the same pan now add the butter, sugar and honey and gently heat until the butter has melted and the sugars dissolved. Continue to cook fora further 3-4 minutes to slightly caramelise the sugars.
Whilst the sugars are caramelising line your baking tin with baking paper as this makes it easier to remove the granola once it has set firm.
Now pour the sugar mixture over the toasted oats and then add all the dried fruits, seeds and nuts. Give the mixture a good stir through until everything is coated with sugar. Now add the chocolate chips and quickly stir throughout the granola mixture.
tip the Granola into the prepared tin and press down quite firmly into the tin, Place in the fridge for 5-10 minutes just to cool down and set up.
Remove from the fridge and tip the set granola out onto a board. Cut into whatever size bars you would like and set slightly apart on the board.
Drizzle over each bar with melted white chocolate and allow to set.
Store the Granola Bars in the fridge where they will keep for many months if you can bear to not eat them all at once.

If you like the work I do? You can always buy me an expresso at https://www.patreon.com/SteveOwens but truly just a like will do 
🙃