Its early 2018 and we are all ready to set off on the first major trip of our Australian Odyssey. Travelling over 3,500kms from Melbourne in Victoria to Perth in Western Australia. That is right across the country from East to West.
We allowed ourselves 10 days and on hindsight we should have taken at least twice that amount of time as we could have spent days exploring the fascinating places we stumbled upon.
Part 1 – Driving Across Australia – Melbourne to Perth
Day 1 
Well we set off from the Mornington Peninsula and drove towards Mildura. We were not sure how far we would get on this first day as we were a little late setting off and we called in to see out oldest son in Melbourne, which as expected took a little while 😍.
We had researched the Free Campsites, that are dotted all over Australia and had earmarked a couple that we would pass on the way to Mildura. So as it was getting to near to our stopping time we decided to check out the Skinners Flat Reservoir Camp Ground.
Day 2
Well Lesson learnt although out tent was great and the self inflating mattress we had brought was fantastic, when camping in the outback you do need to make sure you have something to keep you warm. We had set off with a couple of thin little blankets that we thought might be OK till we decided what were needed to buy – Well we were freezing that first night – Not a good start to our camping adventure but undeterred we packed up our camp said goodbye to Skinners Flat Reservoir and drove into Mildura, where we promptly purchased a queen size 'Doona'. We wouldn't be cold tonight 😀
With our free campground for our next stop, logged into the GPS, we headed off towards Renmark in South Australia. Plushes Bend was a lovely camping spot right on the River Murray. There were a number of campers scattered around the site but as we only had a small tent and the car we found a wonderful spot right on the edge of the river. We set up camp and went for a wander, chatting to our fellow campers and had a very pleasant evening. After a comfortable and 'cosy' nights sleep we decided that we should take the time to relax and stay another night here.
Steve decided it would be fun to Live Stream whilst standing in the River and then we went for a walk around the site showing the viewers exactly where we were.🤳😎
Day 4
Refreshed and relaxed after our 'day of rest' 😎 we once again packed everything away and hit the road. We were mindful that we had only allowed ourselves 10 days to reach our destination in Western Australia so we knew we had to get some km's done at some point.😏
Day 4 saw us skirt past Adelaide via Port Augusta and heading towards the start of the Nullarbor. We camped at an old farm house which had been set up to allow campers to camp on the property. This camp was quite highly rated but we were slightly disappointed with the spot however this might have been because of the 'hoons' who decided to spend the night partying, driving at great speeds up and down the road and revving their engines not too far from our camp 😠. These things happen and we packed up early the next morning and continued on our way
Day 5
Now and again we caught glimpses of the ocean as we travelled this route. Stunning. We had planned on spending the night at Bunda Cliffs which was a lovely spot albeit very windy but after having a wander around we discovered the ground was not sand as we first thought but rock and no way would we get tent pegs into the ground. With the wind really picking up we thought we might end up in the ocean if we stopped here so we drove a little further along the road and stopped at a fantastic spot just off the highway .
Loved the signs that are all along the Nullarbor Highway, so we had to snap a photo or two. It was cool that they had colour coordinated them to match our Jeep 🙃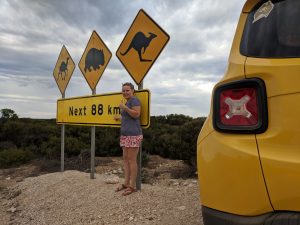 Day 6
This section of our journey saw us crossing from South Australia into Western Australia. There is actually a border crossing between these two states where your vehicle is checked to make sure you are not carrying any fruit or honey (amongst other things), as WA is quite an isolated state in Australia and keeping it disease free is important. The guys at the border are friendly and it only takes a few minutes and then you are on your way once again.
Border Village is, as the name suggests, on the border with WA but it's actually in South Australia. We had a little fun taking photos with the giant Kangaroo holding a jar of Vegemite, also we noticed the great signpost showing how far away we were from everywhere 🇦🇺
We were loving the drive along the Nullarbor. It was nothing like we expected it to be but then we weren't quite sure what we were expecting really. Steve had a shot or two on the Nullarbor Links Golf Course which is the 'Longest Golf Course in the World' which was fun and we flew the drone a few times to try and get some shots of the car driving along the 'Longest Straight Road in Australia'. Which we did manage to achieve 😀
I will say that where we stopped for night 6 was the absolute worst for flies, they were everywhere and the only way to escape them was to dive quickly into the tent and stay there. We did get up early the next day before the sun had managed to warm the place up and wake the flies, pack everything away and continue on the journey. The one downside of outback camping are the flies, if you stop in a place where they are – wow!!!!!
Day 7
Now we're at the end of the Nullarbor Highway and visiting the delightful little town of Norseman. We had planned on either going south towards the coast or north towards Coolgardie to get round to Wave Rock, which was a place we thought might be cool to visit, but after talking to Judy in the Tourist information Centre in Norseman she told us we could take the Hyden – Norseman Trail and go straight across country. She assured us the road was good and we would have no issues driving on it with our car – so thats what we did.
So glad we did, this was a real experience on a red dirt road which was in really good condition and no problem at all to drive on. We stopped at Disappointment Rock and had a lovely walk straight up the rock.
After driving a little further along the road, we found a great spot to camp, so stopped for the night. Awoke the next morning to discover a couple of kangaroos outside the tent, albeit briefly as they soon hopped away once we emerged but it was cool.
Steve spotted this little fellow on the road just sunning himself so he got out the car to have a chat
Day 8
We made it to wave rock.😎 The rock itself is cool and there are a few other sights to see but it has all become very commercial. There's a caravan park, a cafe and an 'entrance fee' which in fact was just a 'parking fee' which does kind of spoil the experience. After all the rock is a natural phenomena and everyone should be able to freely enjoy it. Just a little gripe.
We drove onto the town of Kulin and stopped the night in this great RV friendly town. They really have gone out of their way to have facilities for travellers. It is only a small place but super friendly. Top marks Kulin.
Day 9
Next we drove on into York, an historic and very pretty town and it's claimed as the first inland town in WA. We spent the day wandering and relaxing before driving to a little camp spot just outside York. Unfortunately we had actually arrived a couple of days too early and we could have spent an extra day or so somewhere else on the Nullarbor -hey ho.
Day 10
This happened to be Steve's birthday so we thought it would be kind of nice to spend our last night of this trip in a hotel. Not that we hadn't thoroughly enjoyed the camping but just we were not really in 'outback Australia' anymore as we were getting closer to Perth and because we could 🙃.
So we looked around York, found a little place and checked in and then once more just explored the area and relaxed.
The next day we drove to where we would be staying for a while and look what we saw………
We hadn't seen many kangaroos on the whole of our trip across the country and then when we stop there are 'mobs' of them.
Well we hope you enjoyed our adventure across Australia, stay with us, subscribe to the Channel on Youtube and there will be lots more to come as we explore the west coast and more……….
Don't forget to say hi ( here or on youtube) we love hear from you all 😍 👍
Check out exactly where we went and stopped on the Map below 😎 🚖 🇦🇺